I missed my Wednesday posting last week because, honestly, I had more important things to attend to.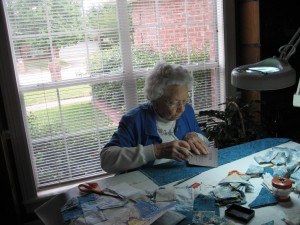 My grandmother, Camille Jay Snow, died the morning of March 17, 2014. She spent 101 years on this earth, and while I know she was ready to go, there are a lot of us who are going to miss her, with the deep sort of ache that isn't pain, exactly (because, again! 101!), but is the emptiness of a Mamaw-shaped hole.
She was a remarkable woman, and even though we went over some of this during her memorial and graveside services last Saturday, I'm finding it difficult now  to encapsulate exactly what remarkable means. And so, a list.
She exemplified how Christians are truly supposed to live through her love and consideration for everyone around her.
She endured child abuse, but it never showed in how she reared her own children. Her four kids didn't know about it until well into their adult years.
She forgave the perpetrator, and was the only one to comfort that person in their* final days.
She worked in her household from the age of 6, including washing diapers outside in the dead of winter.
She kept food on the table for herself, her father, stepmother, and three younger siblings at a time when her father couldn't work.
She loved to play games, most especially 42. But even at 101, she played Cards Against Humanity–and nearly won.
She made jokes, most of them at her own expense.
She loved her husband, Sam, for every one of the 56 years they were together, and visited him in the nursing home every day during the last 18 months of his life.
She was a quilter, a sewer, a jelly-maker, and a baker of peach and berry cobblers.
She was a storyteller, and made up "tall tales" to entertain her younger brothers. I wish I'd known about that sooner, so that she and I could've talked about making things up.
She wasn't perfect, of course, and there were times when she said something hurtful. But it was never out of spite or even intended. The scales of her words tip heavily toward kindness and love.
She accepted everyone she met and made them feel welcome and liked.
She had the first given name Clois (or Cloyce; the spellings vary) but hated it so much that she made her maiden name her middle name, and I, at least, never knew about "Clois" until five days ago.
She never went to college herself, and became a stay-at-home mom with the birth of her first child, but she returned to work when that same child started college, so that all her children could graduate debt-free.
She laughed when we did things like put this in her 100th birthday celebration slideshow.
She had the heart of a servant, and always tried to make things easier for other people.
She was truly the most humble person I've ever known. I can't tell you how much better off we'd be if we had more people like my Mamaw.
Rest in peace, Mamaw. One of the best things about my faith is believing I'll see you again.
*And oh, how that grammatically incorrect antecedent grates, but I think it's best to use gender-neutral pronouns in this case.